HIV Testing Services:
The Anne Arundel County Department of Health offers FREE HIV testing at our Glen Burnie and Parole Health Center locations. The Department can also provide HIV testing at facilities in the community, if requested.
For more information or to schedule an appointment, call 410-222-7382, TTY: 410-222-7153, Monday – Friday, 8:00 a.m. – 3:30 p.m. Walk-ins are welcome, appointments are preferred.
HIV/AIDS Education Services: 
The Department of Health offers educational sessions for County groups interested in knowing more about HIV infection or AIDS. Presentations are tailored to fit the specific needs of each group. Topics include HIV in Anne Arundel County, the spread of HIV, prevention of HIV, HIV testing, referral services and current treatments.
For more information regarding HIV/AIDS services, call 410-222-7108.
Disease Intervention Services/Partner Counseling and Referral Services:
Disease Intervention Services identifies syphilis and HIV-positive individuals within the County and works with the individuals to link them to treatment and care. Partner Counseling and Referral Services, provided by a disease intervention specialist, helps people diagnosed with syphilis or HIV/AIDS let their sex partner or other contacts know if they should be tested. Both Disease Intervention Services and Partner Counseling and Referral Services work together to assist individuals diagnosed with syphilis and HIV in accessing services to help them lead healthy lives and reduce the transmission of both diseases.
Case Management/Client Advocacy Services:
Department case managers work with HIV-positive County residents to help them access medical care, housing, emergency financial assistance, food, transportation, mental health and substance abuse treatment programs. Eligibility for the confidential case management and client advocacy services are based on income level and/or assets. Case managers help clients develop individual care plans that focus on improved health status and self-sufficiency. 
HIV/AIDS Case Management Services
HIV/AIDS Support Groups:
Through the provision of support groups held several times each month, the Department offers individual and group counseling sessions to individuals diagnosed with HIV.
---
FREE Safe Sex Kit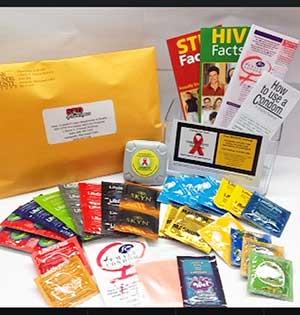 Anne Arundel County Residents, Order Your FREE Safe Sex Kit Today!
The Kit Includes:
Information on HIV and STI facts and HIV testing sites
Condom Pal Case, which holds two male condoms (great for purses and pockets)
A variety of condoms, e.g., male condoms, female condom, dental dams, and lubricants